PENDIDIKAN LITERASI PADA ANAK DALAM PERSPEKTIF AL QUR'AN
Keywords:
literate educations for kids, Al Qur'an perspective.
Abstract
The discussion in this article focuses on Literacy Education in children in the perspective of Al qur'an with the method  of combining a comprehensive search of academic databases, scientific articles, books, and other relevant sources to collect information about Literacy Education in children in the perspective of the Qur'an. Of course, these sources are confirmed books of exegesis. The essence of literacy from the perspective of the Qur'an is QS. Al-Alaq verses 1-5 is where one can use one's intellect to think, one's heart to feel, and one's senses to help one find meaning. contains commandments and obligations for everyone to learn and teach them. Which learning in this verse is symbolized by two terms namely iqra 'and qalam with the meaning of reading and writing as widely as possible. As well as the form of God's teaching to his servants, which is symbolized by teaching either through the medium of a pen (qalam) or God's direct teaching ('allama) as exemplified by Allah that He Himself will teach man. The things that must be done in literacy education to early childhood are: reading stories to children regularly, storytelling by telling stories, doing letter recognition, writing practice, making visits to the library and limiting screen time.
Downloads
Download data is not yet available.
References
Ahmad Musthafa al-Maraghi, Tafsir al-Maraghi terj. Thalib (Bandung: CV ROSDA, 1987)
Ahmad Warson Munawir, Kamus al-Munawwir Arab-Indonesia (Surabaya: Pustaka Progresif, 1997)
D W Ekowati and B I Suwandayani, LITERASI NUMERASI UNTUK SEKOLAH DASAR, Seri Pertama (UMMPress, 2018).
HAMIDATUN NIHAYAH, "Analisis Hasil Belajar (Munaqosah) Santri Taman Pendidikan Al Qur`an," AL-WIJDÃN: Journal of Islamic Education Studies 4, no. 1 (2019), https://doi.org/10.33379/alwijdn.v4i1.306.
Hamka, Tafsir Al-Azhar (Jakarta: Pustaka Panji Mas, 2005)
Ibn Manzhur al-Ifriqi, Lisan al-'Arab, III (Beirut: Dar Shadir, n.d.)
Jan, Ahmad Ali, et al. "Jalan keberlanjutan perusahaan menuju pembangunan berkelanjutan: analisis bibliometrik literatur dari 2005 hingga 2021." Penelitian Ilmu Lingkungan dan Polusi (2022): 1-12.
John M. Echols dan Hassan Shandily, Kamus Inggris Indonesia (Jakarta: PT. Gramedia, 2006)
Lili Sudria Wenny, Literasi Informasi berdasarkan Surah Al-Alaq, Maktabatuna: Jurnal Kajian Kepustakawanan Vol 3 No 1. Januari- Juni 2021
M.Quraish Shihab, afsir Al-Misbah: Pesan, Kesan dan Keserasian al-Qur'an,. Vol. I5, (Jakarta: Lentera Hati, 2002)
M.Quraish Shihab, Tafsir al-Misbah: Pesan, Kesan, dan Keserasian al-Quran (Jakarta: Lentera Hati, 2006), Cet. Ke-6, Vol. 15
MAI ZUNIATI, Leli Fertiliana Dea, and Eka Prasetyawati, "PEMBERDAYAAN GURU PAUD DALAM PENGENALAN LITERASI BAHASA ASING MENGGUNAKAN METODE BERNYANYI BERBASIS NILAI-NILAI ASWAJA SE-LAMPUNG TENGAH," Jurnal Abdi Masyarakat Saburai (JAMS) 1, no. 02 (2020): 12, https://doi.org/10.24967/jams.v1i02.1039.
Muhammad Amin Suma, Ulumul Qur'an (Jakarta: Rajawali Pers, 2014)
Muhsin Kalida dan Moh Mursyid, Gerakan Literasi Mencerdaskan Negeri, (Yogyakarta: Aswaja Pressindo, 2020)
Prof. Dr. Hamka, Tafsir Al-Azhar, 9th ed. (Bandung: Gema Insani, 2015).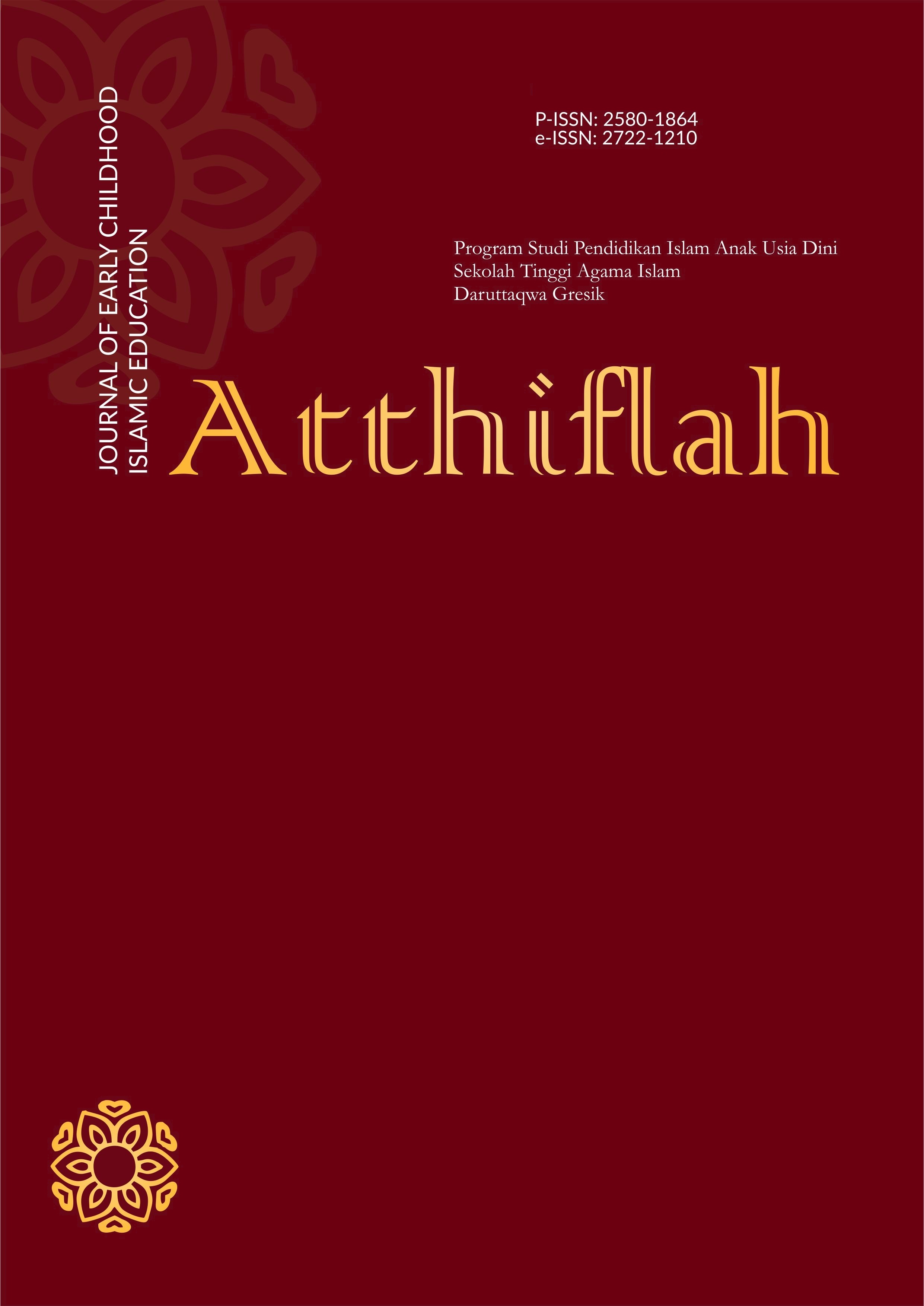 Downloads
How to Cite
Habibulloh, M. R. ., & Abidin, A. A. (2023). PENDIDIKAN LITERASI PADA ANAK DALAM PERSPEKTIF AL QUR'AN. Atthiflah: Journal of Early Childhood Islamic Education, 10(2), 266–276. Retrieved from https://jurnal.insida.ac.id/index.php/atthiflah/article/view/570
License
Copyright (c) 2023 M. Romadlon Habibulloh, Achmad Anwar Abidin
This work is licensed under a Creative Commons Attribution-NonCommercial 4.0 International License.