INOVASI PENGEMBANGAN KURIKULUM PENDIDIKAN DALAM PERSPEKTIF KURIKULUM HUMANISTIK
Keywords:
Innovation, Development, Educational Curriculum, Humanistic Curriculum
Abstract
The curriculum is an important instrument in the implementation of education, without the educational curriculum it will be unclear its direction and purpose. Innovation in curriculum development is very important in the development of learning, seeing its dynamic nature is always changing. The purpose of this study is to determine the innovation of educational curriculum development and at the same time try to analyze the character of the curriculum development innovation through a humanistic curriculum approach. This type of research is qualitative with a case study type of research. Data collection techniques are carried out using interviews, observation and documentation. Data analysis is carried out through the stages of data reduction, data display, and verification and conclusions. Data validity tests are carried out using the triangulation method. The results showed that the educational curriculum development innovation developed by MI Darul Hikmah has several humanistic curriculum characters as explained by the informants. In terms of innovation, the development of educational curriculum in MI Darul Hikmah has the principle of balance, namely success in the world and the hereafter, the form of curriculum innovation developed by the school is memorization of suras, reading and writing iqra / al-qur'an and so on.
Downloads
Download data is not yet available.
References
Ahad Tanzeh. Metodologi Penelitian Praktis. Yogyakarta: Penerbit Teras, 2011.
Departemen Pendidikan Nasional. Undang-Undang Nomor 20 Tahun 2003 Tentang Sistem Pendidikan Nasional. Jakarta, 2004.
Dwi Setiyadi. 'Kurikulum Humanistik Dan Pendidikan Karakter: Sebuah Gagasan Pengembangan Kurikulum Masa Depan'. Jurnal Pendidikan Dasar Dan Pembelajaran, 2016, 28–29.
Hasan Baharun. Pengembangan Kurikulum: Teori Dan Praktik (Konsep, Prinsip, Model, Pendekatan Dan Langkah-Langkah Pengembangan Kurikulum PAI). Yogyakarta: Cantrik Pustaka, 2017.
Islam, M. A., & Khan, M. A. 'Exploring the Challenges of Teaching and Learning the Qur'an in Madrasah Education: A Case Study in Bangladesh'. Journal of Research and Reflections in Education 14(1), (2020), 1–16 (n.d.).
J.R. Raco. Metode Penelitian Kualitatif, Jenis, Karakteristik Dan Keunggulannya. Jakarta: Grasindo, 2010.
Muhaimin. Pengembangan Kurikulum Pendidikan Agama Islam Di Sekolah, Madrasah Dan Perguruan Tinggi. Jakarta: PT Raja Grafindo Persada, 2008.
Oemar Hamalik. Manajemen Perkembangan Kurikulum. Bandung: Rosda dan UPI, 2018.
Rahman, Rifqi Aulia, Chairani Astina, and Nurul Azizah. 'Kurikulum "Merdeka Belajar-Kampus Merdeka" Di PBA UNSIQ Jawa Tengah'. Taqdir 7, no. 2 (2021): 165–79. https://doi.org/10.19109/taqdir.v7i2.8950.
Rohman, Rohman, Syafruddin Nurdin, Martin Kustati, Muhammad Kosim, and Nana Sepriyanti. 'Karakter Kurikulum Humanistik dalam Pengembangannya Terhadap Proses Pembelajaran di SD Adnani Panyabungan Mandailing Natal'. Tarbiyatuna: Jurnal Pendidikan Islam 15, no. 2 (15 August 2022): 149–59. https://doi.org/10.54471/tarbiyatuna.v15i2.1769.
Suharsimi Arikunto. Prosedur Penelitian, Suatu Pendekatan Praktik. Jakarta: Rineka Cipta, 2006.
Suprihatin, Suprihatin. 'Pendekatan Humanistik Dalam Pengembangan Kurikulum Pendidikan Agama Islam'. POTENSIA: Jurnal Kependidikan Islam 3, no. 1 (13 June 2017): 82–104. https://doi.org/10.24014/potensia.v3i1.3477.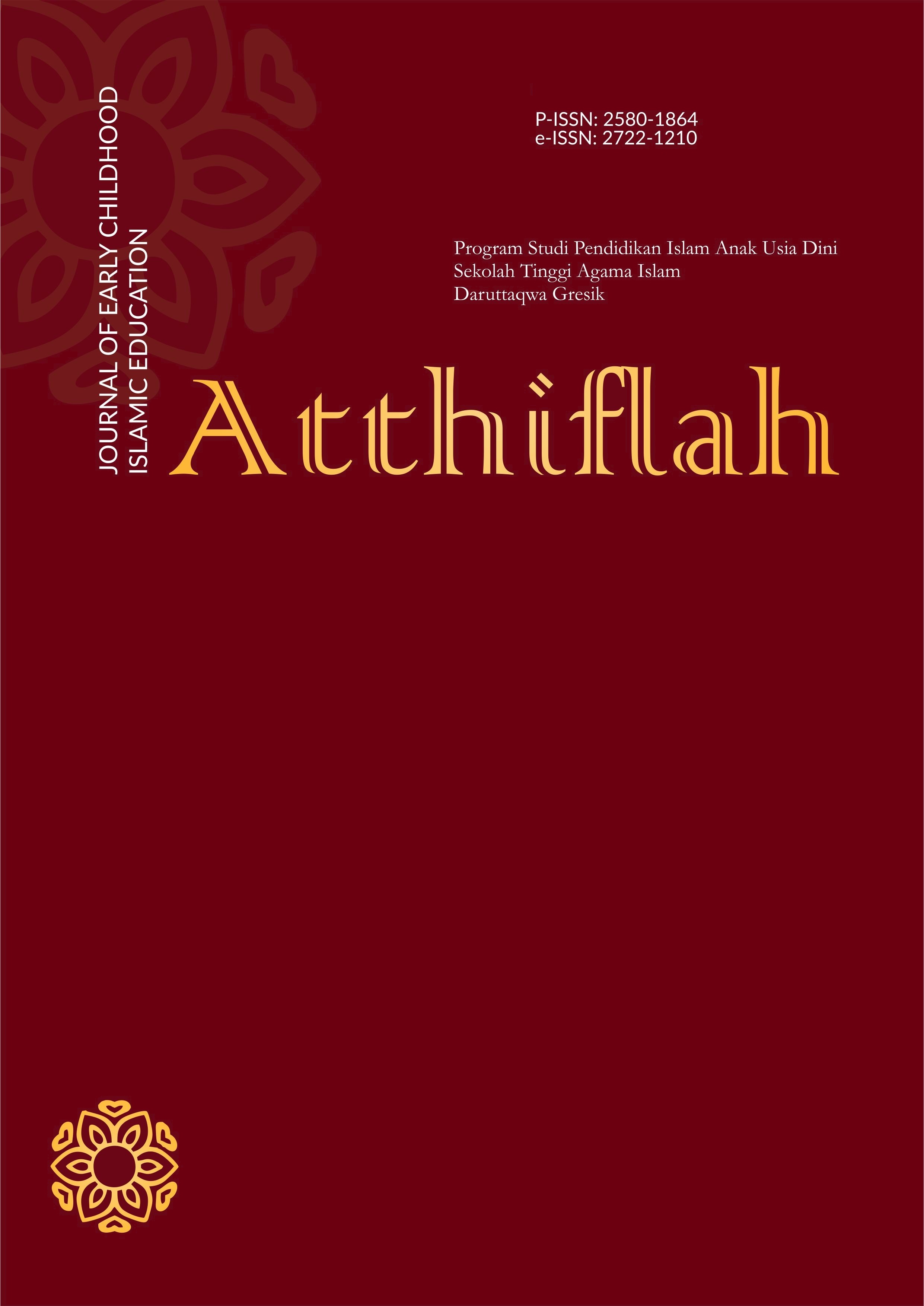 Downloads
How to Cite
Taufik, N. (2023). INOVASI PENGEMBANGAN KURIKULUM PENDIDIKAN DALAM PERSPEKTIF KURIKULUM HUMANISTIK. Atthiflah: Journal of Early Childhood Islamic Education, 10(2), 230–238. Retrieved from https://jurnal.insida.ac.id/index.php/atthiflah/article/view/473
License
Copyright (c) 2023 Nurut Taufik
This work is licensed under a Creative Commons Attribution-NonCommercial 4.0 International License.