IMPLEMENTASI PROGRAM MENTORING DALAM MEMPERBAIKI KUALITAS BACAAN AL QUR'AN DI MADRASAH TSANAWIYAH AL ISLAM JAMSAREN SURAKARTA
Keywords:
Mentoring, Quality of Reading the Qur'an.
Abstract
The problem of difficulty in reading the Qur'an and anything the hindrances for students must receive attention, not only for students at the elementary level but also for students at the junior and senior secondary levels. This research intends to determine the application of mentoring programs in improving the ability to read the Qoran, and to find out about supporting and inhibiting factors. This research used a qualitative-descriptive method and a phenomenological-naturalistic approach in MTs Al Islam Jamsaren Surakarta. Data collection was carried out by interview, observation, and documentation methods. Data analysis used Miles and Huberman's interactive data analysis techniques. Then, to test data validity, the researcher used triangulation techniques/methods. The result showed that the implementation of mentoring the Qur'an in MTs Al Islam Jamsaren Surakarta runs well. It is evidenced by the increasing of student's quality of reading the Qur'an. Supporting factors of the success are enthusiasti, self-awareness, mandatory programand parent's role. While the constraints are limited time and unconducive place.
Downloads
Download data is not yet available.
References
Ade Hidayat. (2013). Efektivitas Program Mentoring Halaqah dalam Meningkatkan Kecerdasan Moral Siswa. Jurnal Etika dan Pekerti, 1(1), 20-35.
Aiman Ghalib. (2011). Kumpulan Aplikasi Games dalam Kegiatan Mentoring Islam. Karawang: Garuda Publishing.
Anisa Prima & Murniyetti. (2022). Implementasi Metode Iqra' dalam Pemberantasan Buta Baca Alquran Pada Siswa. An-Nuha: Jurnal Pendidikan Islam, 2(2), 255-262.
Bunga Bhagasasih A. & Silvia A, Putri I. (2023). Pengaruh Penataan Tempat Duduk Terhadap Keefektifan Belajar Siswa SD. Jurnal Pendidikan dan Konseling, 5(1), 683-687.
Endin M. & Abdul Rauf A, Didin H. (2020). Pengembangan Manajemen Peserta Didik Program Tahfidz. Ta'dibuna: Jurnal Pendidikan Islam, 9(1), 68-88.
Fadlilah Anisa H. & Syamsuddin, M. Fatchurrohman. (2023). Implementasi Program Pembelajaran Mentoring dalam Pembentukan Akhlak. Mamba'ul 'Ulum, 19(1), 67-79.
Hernita. (2020). Implementasi Tabungan Baitullah IB Hasanah dan Variasi Akad pada PT. BNI Syariah Kacab Pekanbaru. Pekanbaru: UIN SUSKA Riau.
I Putu Suardipa & Kadek Hengki Primayana. (2020). Peran Desain Evaluasi Pembelajaran Untuk Meningkatkan Kualitas Pembelajaran. Widyacarya: Jurnal Pendidikan, Agama dan Budaya, 4(2), 88-100.
Ibrahim. (2018). Metodologi Penelitian Kualitatif. Bandung: Alfabeta.
Irvi Reisa & Wasehudin, Irfan A. (2022). Peran Guru PAI dalam Meningkatkan Motivasi Siswa Pada Pembelajaran Membaca dan Menulis Al Qur'an. Intiqad: Jurnal Agama dan Pendidikan Islam, 14(2), 330-350
Kaswan. (2012). Coaching dan Mentoring, Untuk Pengembangan SDM dan Peningkatan Kinerja Organisasi. Bandung: Alfabeta.
M. Hoiriyanto & M. Iqbal A, Jumiati. (2023). Program Tahfidz Al Qur'an Pasca Pandemi COVID-19 di SDIT Nurul Fikri Banjarmasin. Jurnal Tarbiyah: Jurnal Ilmiah Kependidikan dan Keagamaan, 7(1), 1-15.
Najzil Muhsina. (2020). Pelaksanaan Mentoring Sebagai Program Bina Karakter Siswa Kelas Tahfidz Putri Madrasah Tsanawiyah Ma'ahid Kudus. Kudus: Repository IAIN KUDUS.
Redmon Windu G. (2020). Pengaruh Pembiasaan Tilawah Al Qur'an Terhadap Pembentukan Karakter Siswa. Karangan: Jurnal Kependidikan, Pembelajaran, dan Pengembangan, 2(2), 38-57.
Rengga Satria & Salsabila Fitri H. (2022). Model Mentoring Pembinaan Akhlak Santriwati di Perguruan Islam Ar-Risalah. Ta'dibuna: Jurnal Pendidikan Islam, 11(3)
Ubaidillah. (2023). Strategi Guru Dalam Mengatasi Kesulitan Siswa Membaca Al Qur'an di MIN Hulu Sungai Tengah. Educational Journal: General and Specific Research, 3(1)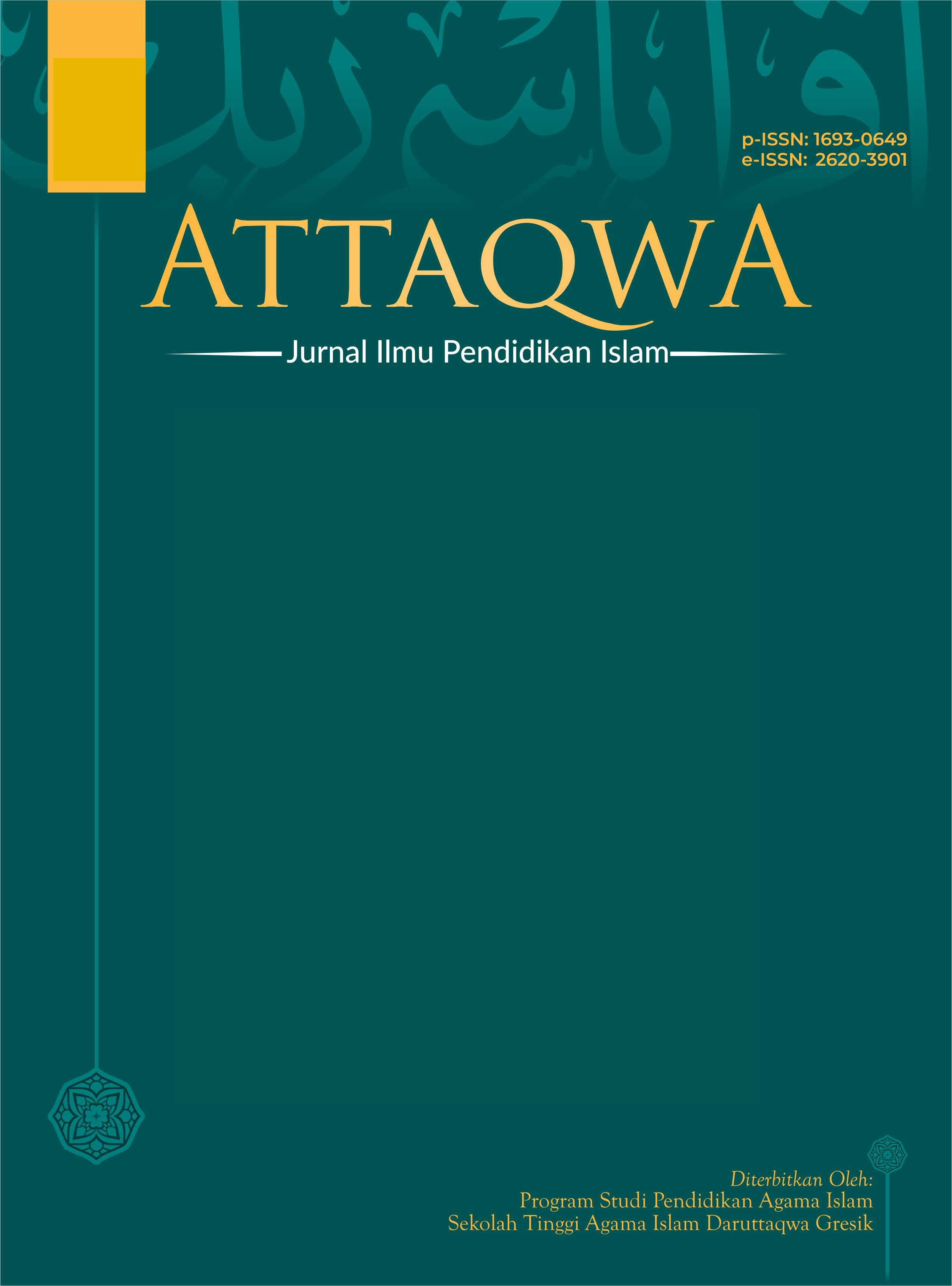 Downloads
How to Cite
Kurniawan, A., Hidayah , N., & Sugiyat , S. . (2023). IMPLEMENTASI PROGRAM MENTORING DALAM MEMPERBAIKI KUALITAS BACAAN AL QUR'AN DI MADRASAH TSANAWIYAH AL ISLAM JAMSAREN SURAKARTA. Attaqwa: Jurnal Ilmu Pendidikan Islam, 19(2), 170–180. Retrieved from https://jurnal.insida.ac.id/index.php/attaqwa/article/view/566
License
Copyright (c) 2023 Aris Kurniawan, Nur Hidayah , Sugiyat Sugiyat
This work is licensed under a Creative Commons Attribution-NonCommercial 4.0 International License.